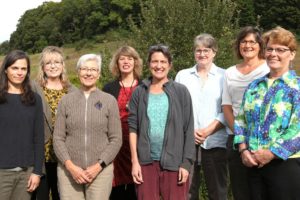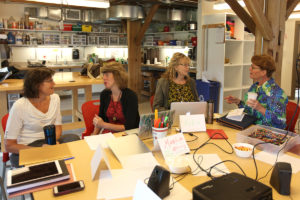 Chris Ward, Ph.D –  (Board President) Chris is the Graduate Studies Coordinator and faculty member at the Upper Valley Educators Institute in Lebanon, NH. After teaching elementary school, he has worked as a teacher educator for more than 15 years. Chris was drawn to Changing Perspectives' efforts to help teachers learn how to have conversations with students about understanding and appreciating differences.
Monica McEnerny, Ed.D – (Board Vice President) Monica is an Associate Professor of Education at Castleton University.  She earned her Master's Degree in Education from Castleton and her Doctorate in Educational Leadership and Policy Studies from the University of Vermont. She taught English at the middle level for many years and is still closely tied to middle level education and best practice.  Monica believes deeply in Changing Perspectives' mission to support teachers in their endeavors to foster inclusive communities.
Maureen Ripple, Ph.D –   (Board Treasurer) Maureen currently works in the Dartmouth-Hitchcock/Geisel School of Medicine Development and Alumni Relations Office. For many years previous, she worked as a special education assistant and as a basic science researcher.  Spreading empathy and understanding has always been a goal of hers, whether in the classroom, the laboratory or elsewhere.
Claudia Gibson, M.D  –   (Board Secretary) Claudia is a retired child neurologist; she worked as a cognitive neurologist in the practice of learning disabilities and school-health. She believes that social-emotional strength is the strongest indicator of the health of a person and of a community and that Changing Perspectives can have a crucial impact on every student's development.
Debra Gardner-Baasch, Ed.D  – Debra is the Coordinator for Personalized Learning and Multi-tiered Systems of Support for the Mill River Union School District in Vermont.  She has 30 years of classroom experience teaching every grade from K-12.
Glennis Gold, J.D  –   Glennis lives in Norwich, Vermont.  She works as a Windsor County deputy state's attorney handling the child protection docket.  Previously, Glennis worked as an education assistant, a disability rights attorney and dance and theater educator to students with and without disabilities.  Glennis believes the mission of Changing Perspectives to teach the value of empathy for all humans is critical for the future of our communities.
Ellen Langsner, BS, CAGS  –  Ellen is a retired educator, parent, and relative of a person who grew up with a disability. Having experience as a special education teacher, classroom teacher, and administrator means having first hand knowledge of why Changing Perspectives is so needed in schools. Ellen believes that Changing Perspectives can enrich both the lives of children who have disabilities and those who do not by fostering understanding, compassion, and a sense of belonging.
Jill Lloyd, MSN, FNP  –  For the past five years, Jill has worked part-time at Sharon Elementary School as the school nurse/health educator.  Most of her career has been working as a family nurse practitioner in non-profit, family-based clinics. She currently volunteers weekly at a free clinic providing health care for the underserved.  Jill observes how Changing Perspectives creates understanding of visible and non-visible disabilities in school-aged children, which fosters empathy, inclusion, and an embrace of diversity in all people.
Tricia Lanter-Dufty, M.D  – Tricia is an Emergency physician and a parent to a child with disabilities. She sees the impact of empathy and inclusion in her daughter and believes strongly in the mission of Changing Perspectives.