Changing Perspectives offers social-emotional learning and disability awareness curriculum resources via an online platform to educators worldwide. Neither prescribed nor scripted the portal provides content for grades PreK to High School.
Our online portal is available 24/7, includes educator supporting materials, an interactive lesson planner, and technical support. Our curriculum resources are educator created, reviewed, and aligned with Common Core Standards and CASEL Competencies. These resources are used by a variety of educators working both in and outside of the traditional classroom environment. Homeschoolers, youth organizations, after school programs, and more are all able to utilize the materials.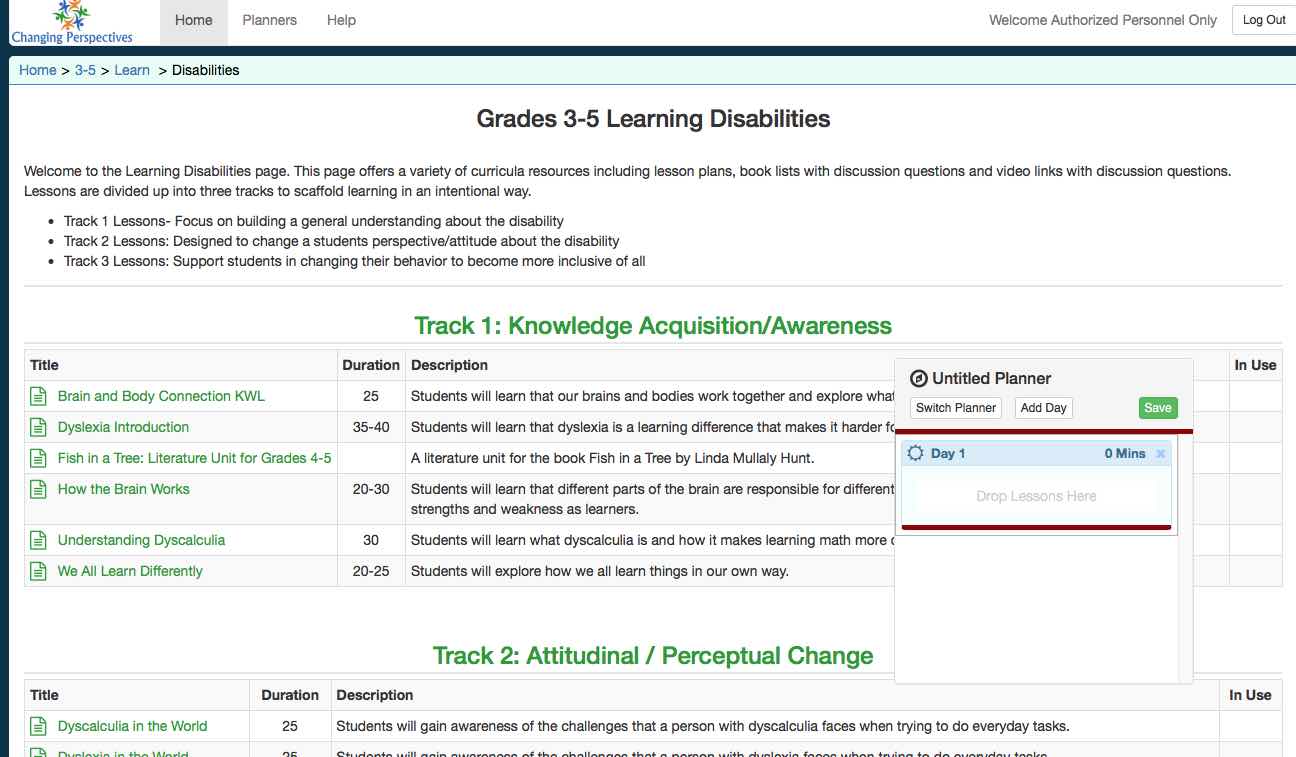 All Changing Perspectives curriculum resources are custom designed for each grade level to provide the tools for ongoing social-emotional learning.
PreK
Social-emotional learning, or SEL, is an essential component of every child's education and development. The seeds of SEL are sown beginning at birth and early childhood is a critical time for establishing the roots of these essential skills.
Elementary
Once considered a "soft" skill set, SEL is now recognized as an integral factor in academic, career, and life success.SEL positions students for overall well-being and supports them in developing the resiliency, collaborative skills, and confidence needed in life.
Middle School
To ensure today's students can become tomorrow's inclusive leaders, we must provide them with meaningful experiences to learn about disabilities in safe and respectful ways that promote empathy and connection. 
High School
To prepare teens to become inclusive leaders beyond school, it's important to hone social emotional concepts in more complex and holistic ways.
Social-Emotional Learning supports positive experiences. Where these concepts have been introduced there are positive outcomes such as:

Increased
Academic
Achievement

Improved
Behavior

Positive
Self-Image

Social Emotional Learning helps improve traditional academics by engaging students in awareness activities to help improve empathy, interpersonal relationships, and teamwork. These concepts develop and expand and are important elements of contentment and academic and life success.
Ready to Get Started?
Changing Perspectives SEL and disability awareness curriculum resources are accessible through an annual paid subscription to the Changing Perspectives Educator Portal. An individual subscription is $125 with volume discounts available. The Educator Portal is an online platform that allows users to access an array of customizable curricular resources, parent resources, educator implementation guides, and more.